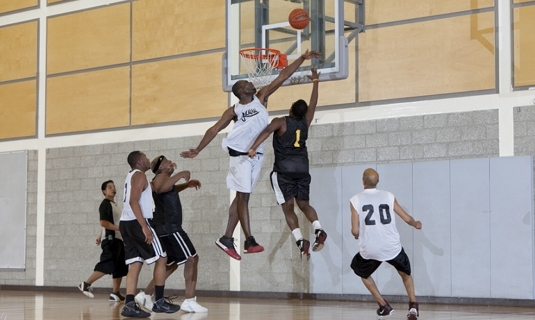 Block Party
Philippe Ha
|
Sat, June 25, 2011
In the absence of two their top three scorers, Andy and Steve Vo, the Heat would have their hands full against a Grizzlies squad that was hoping to forget their two-point loss the week before. To make matters worse, the Heat had but only five players to suit up; we'd have to expect Ahmed Ghazouani and Berry Nkuni to step their games up if this one would be close.
Speaking of stepping up, Sheeraz Chaudhry did just that as he would take no chances against the depleted Heat roster, putting up 8 consecutive Grizzlies points on his way to 11 in the quarter, 19 for the game. The lack of defense would be the Heat's downfall as they gave up 22 points and trailed by 8 after only twelve minutes.
This uphill struggle, however, would do little to ruffle Robert Luu's determination. Luu, recognizing his team's need for captaincy, took over as he (5'5, 155 lbs.) spent the entire game going at it against Grizzlies center, Mo Aly (6'5, 230 lbs.) in what looked and felt like David vs. Goliath battling on hardwood. Aly, unstoppable in the paint, would post 32 points, 18 boards, and 6 blocks against Luu's 11 rebounds and 41 points (including 7 three-pointers).
With Mora Chim trying to step up early in the second half, nailing two floating left-handers, the Heat seemed capable of keeping things close at 43-37 as they outscored the Grizz in the third quarter. Unfortunately, these would be Chim's only buckets as he struggled to find his groove (2 of 18 shooting, 11 rebounds, 2 steals) against the much bigger Aly.
Ultimately, the Heat's lack of depth would do them in as they simply ran out of gas. As their shots began to falter in the fourth, Grizzlies guard, Johnny Cha took advantage, posting 16 points, 8 rebounds, 4 assists, and 3 steals en route to a 77-55 victory.
Our second game featured a cheery Raptors team (coming off their nail-biting W last week) against a fired up Bulls squad who received no usual pre-game pep talk from Alex Labarces who had been busy refereeing the Heat-Grizzlies game.
The new strategy seemed to work as they took a 35-18 lead into halftime. The Bulls, who have struggled mightily out the gates of their games, were finally rewarded for their hard work as they enjoyed, for the first time all season, a lead after the first two quarters.
But as they now know, complacency can quickly lead to one's demise. Whether it's because they admired their lead for too long, or because the Raptors finally woke up, we all got to witness an impressive comeback, sparked by a 15-2 Raptor run in the third.
The difference maker in this one was fairly obvious as the Raps introduced their new big man, Steve Fonkou. Fonkou, who may have only scored 5 points, was a defensive beast as he went on to post 4 blocks and 11 rebounds. More importantly, he was able to disrupt many of the Bulls' mid-range to inside shots, forcing Herby Estel and Jean-Philippe Lallemand into a combined 1 for 22 shooting night.
With Fonku holding the fort on one end, Ernst Mécéjour was able to go to work, lighting the Bulls up for 27 points, including 6 of 8 from the arc, along with 5 steals, and 9 rebounds.
Late in the fourth, Max Bien-Aimé (12 points, 5 rebounds, 2 steals) made one of two free throws to give the Raptors a 3-point advantage with 40 seconds remaining. As Bulls guard, Paul Younan (12 points, 6 rebounds) came back the other way, he drove the ball into the paint with the intention of dropping it off for his big man, Abdel Affo, but got it knocked from his hands and out of bounds, giving possession back to the Raps.
Younan, surprised and infuriated, disputed the referee's call which led to two technical fouls and an ejection, effectively sealing the Bulls' fate as they watched the Raptors nail a free-throw that would give them a four-point lead and victory. Final score: 57-53.
The Good: An exceptionally strong game from Hadi Isber who went on to post 8 rebounds in a 22-point victory for his team.
The Bad: Unsatisfied with the loss, Robert Luu opts to run out the shot-clock and turn the ball over rather than pass it to one of his teammates who might have liked to take a shot – a momentary lapse of judgment in an otherwise brilliant game.
The Notable: It was all about the bigs this week: Abdel Affo and his frightening stat line: 22 points, 21 rebounds, and 6 blocks; Steve Fonkou, the newest Raptor: 4 blocks and 5 points to go with his 11 rebounds; Mo Aly, not to be outdone: 32 points, 18 boards, and another 6 blocks.
The Photos: Week 5: Grizzlies @ Heat | Raptors @ Bulls
Photo Credit: Ameed El-Ghoul - Sphinx Photography