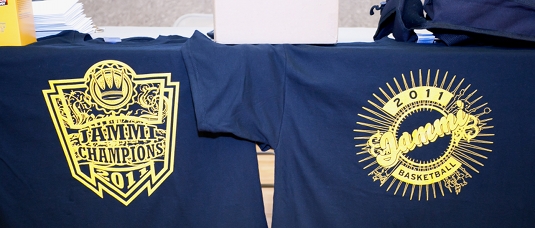 The 2011 Finals
Philippe Ha
|
Fri, September 09, 2011
Even with their nagging injuries, numerous roster transformations, and frequent absentees, the Grizzlies just couldn't find a thing that would stop them from capturing their first Jammi championship. They are, through it all, the very definition of perseverance, turning their difficult regular season around and roaring through the playoffs with convincing wins over the Raptors in the semis and the Bulls, 78-59, in the finals.
The actual game, however, was much tighter than the final score would indicate. Even against the Grizzlies' twin towers, Mo Aly (17 points) and Joe Alfie (7 points), the Bulls' Abdel Affo seemed poised to do his usual damage inside, utilizing his fine footwork to outmanoeuvre his counterparts. At times, Affo would even knock down the eight to ten foot jumper that would keep his defenders honest, going for 16 much needed points.
To keep their opponent on their heels, the Bulls would change their strategy in the second quarter, opting for their running game instead of the half-court offense that the Grizz seemed to have picked up on. This tempo very much suited Bulls point guard, Kevin Charles, who attacked the basket on practically every possession, slowly getting the Grizzlies big men into foul trouble. Charles, the shoot first, pass second style guard proved to be extremely effective against the slower Grizzlies, scoring a team-high 20 points, and keeping his squad within 4 points at the half.
In the third quarter though, we would witness the very conviction and leadership that drove the Grizzlies to the top of the league. Sheeraz Chaudhry, their headstrong captain, provided his team with all the encouragement they needed, leading them by example and scoring 20 points. Not to be outdone, Michael Habib woke up and hurt the Bulls with his usual sharpshooting, scoring a game-high 22 points.
With Tojo Rakotondrabe (12 points), Marie-Pier Lavoie, and Joe Alfie preventing the Bulls from getting anything going offensively, Mo Aly sank a deep three-pointer that would knock their opponent out for good as they appeared completely demoralized from that point on. The Grizz would carefully put things on cruise control in the fourth quarter and take home the first ever Jammi championship.
And although they plan to overhaul their roster in light of the Jammi expansion, the spotlight is now squarely on the Grizzles and the impressive run they put up at the end of the season. With the new season kicking off in a couple of weeks, everyone is wondering how they will stop the champs who will look to do nothing less than defend their title.