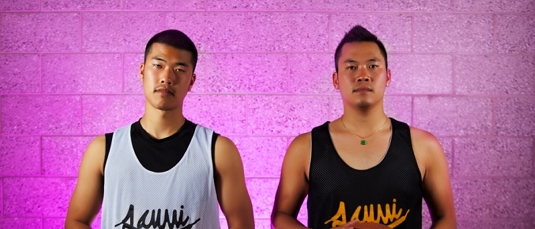 The Vo Brothers
Philippe Ha
|
Mon, August 22, 2011
With the finals only a few days away, we take a step back to focus on two members of the Jammi community who have not only helped promote a sense of unity amongst teams but also propelled their overall competitiveness: Steve Vo and Andy Vo.
Steve, who turns twenty-four this fall, has been playing ball for several years and says he was introduced to the game by his older brother – a reality that gave them a topic of discussion at the dinner table, something that always kept basketball in the back of their minds. So for him, it seemed only natural to invite his younger brother, Andy, to join the squad.
The offensively gifted two-guard from Ville St-Laurent would bring much more to the table than a few fancy baskets, he would bring with him an undeniable will to win – every loose ball, and every game. They may not have realized it then but the Heat's addition would stimulate an important change not only for themselves but throughout the rest of the league as well.
As they began to stack up some convincing wins that would keep them undefeated through May and into June, it became clear that what set them apart from the other teams wasn't just their individual skillsets but their chemistry as a group.
When you watched the Heat, you knew that they had played together before. There was a familiarity between Steve and Andy that put them one play ahead of their opponent at all times; a defensive board that led to a speedy outlet, a timely bounce pass towards the backdoor cutter, these were the plays that other teams were still struggling to get down while the brothers ran them routinely.
But while it felt like they would march right into the playoffs as the odds-on-favourites, their competitors would take notice and learn to adapt.
The thing about winning a bunch of games early in the season is that it can make you complacent. But the bigger concern is that other teams become frustrated with losing to you, so they work harder, they gel as teammates, and they learn from your success so that they can defend against it. It's what we call the ebbs and flows of a long regular season.
And although the Heat fall one game short of the big dance, this certainly won't be the last we hear of the Vo brothers. Losing is nothing but a part of the process; you win, you lose as a team. And as Steve reminds us, proper perspective is all you'll really need to persevere, "with our hectic schedules, it's just good to see my brother, my friends, at least once a week now."