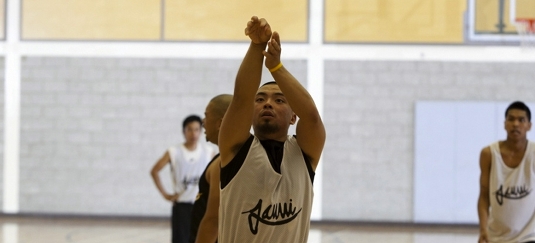 Just Getting Started
Philippe Ha
|
Fri, July 01, 2011
For the first time in Jammi history, a player has posted back-to-back games with 40 or more points. Despite suffering a loss in the second of the two, Robert Luu of the Heat accomplished a feat that will undoubtedly draw the attention of some envious competitors.
We had the opportunity to catch up with Luu to discuss his latest performance and learned that the motivation behind his scoring spree is little more than the simple need to win. "Knowing that two of our top three scorers wouldn't be there... I had to put points on the board so I did what I had to do" he explains. He definitely has been putting points up, accounting for 41 of his team's 55 points Wednesday night and tallying more than 60 percent of his team's total over the last two games.
What may be most impressive – or intimidating, depending on how you look at it – is the efficiency with which he scores. Anyone in our league can drop 40 points if all they think of is offense. Think of Antoine Walker or Carmelo Anthony when he was a stat-driven Nugget. Luu, over the course of the season, is shooting over 44 percent from the field and just shy of 40 percent from the arc. That's some bang-on shooting considering that the rest of the league is at 35 percent and 18 percent respectively.
Despite his recent hot streak, Luu is strictly focused on the team and where it stands in the immediate, telling us that "it's a new game every time, there will be ups and downs but we have to take it one game at a time. We're in good control of our offense but we should be more aggressive and more alert defensively, as a team."
Indeed, the Heat have often looked like their opponent's younger brother, struggling to reach for the ball being held way up high. But for Jammi's first placed team, this is a hardly concern; if you look just a bit closer, you will realize that they are the ones playing keep-away, not the other way around. They, despite their lack of size in the middle, have learned to win purely on good ball movement and a never-say-die attitude. With Luu at the point, the Heat appear focused and composed on every play, utilizing each loose ball and long rebound to their open-floor advantage.
When asked if he feels the pressure of having to repeat his performances just to keep his team in it, Luu modestly but confidently affirms "some nights I need to pull up some big numbers, some nights I don't. I just go with the flow" finally adding "it's gonna be a long season!" – yes, with the way he's been scoring – longer for some than for others.
Photos: Courtesy of Ameed El-Ghoul | Sphinx Photography