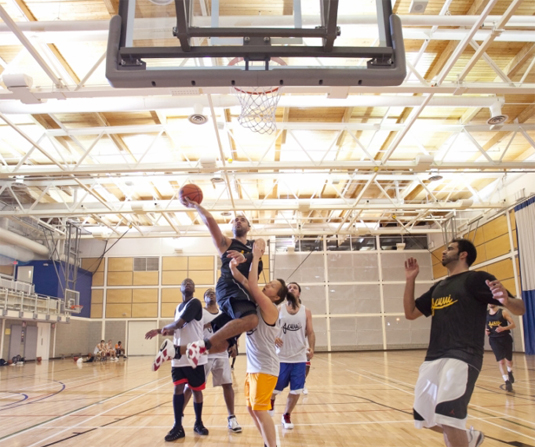 Opening Night
Philippe Ha
|
Thu, May 12, 2011
The champagne was flowing, the cameras flashing, mobbing fans everywhere... Well, not quite but at least people showed up.
Last Wednesday, we finally got this operation off the ground and although there is still a ton of work to be done, we are incredibly excited, defiantly motivated, and flat-out stoked about beginning our inaugural season.
Our first game featured the Bulls matched up against the Heat in what turned out to be one for the books. What started out as a first half blowout, favoring the Heat, evolved into a near completed comeback by the Bulls. Struggling to contain the sharp shooting of Steve Vo, the Bulls switched to an effective man-to-man defense in the second half that pushed their opponent against the ropes.
With about 8 seconds to go, the Bulls made a key defensive stop to retrieve the ball and a chance to tie the game. Coming out of their timeout, the Bulls' Shady Abdalla took an unanticipated three-pointer that clanged against the back rim ultimately resulting in a 44-42 nail-biting loss at the hands of the Heat.
For the second part of our double-header, we saw an excited Raptor squad take on a depleted Grizzlies roster. But a few key absences did little to slow down the Grizzlies as they got out to an early lead, thanks to Tojo Rakotondrabe and never looked back. With the help of an already warmed-up Alex Labarces, Gabrielle Beaudoin, and Shady Abdalla of the Bulls, the Grizz cruised to a 60-39 victory that saw a whole rainfall of three-pointers.
By now, you've learned about the Jammi basketball league and what it stands for, but what else do you know about it? What we hope to accomplish here is a one of a kind experience, something that is not only worth talking about, but something worth coming back to. We believe that all starts with some devotion, some careful attention to detail; they are things we want to demonstrate through our knowledgeable referees, our vigilant stat tracking, and our interactive website. But hardly any of it will matter if you aren't enjoying yourself. So feel free to leave a comment, say hello, tell about yourself, or what you expect to see this season. You are always welcomed.
Photo Credit: Ameed El-Ghoul - Sphinx Photography