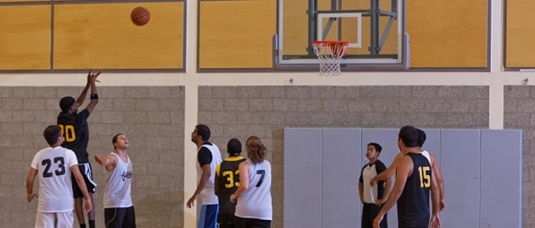 The 2011 Playoffs
Philippe Ha
|
Thu, August 18, 2011
Last night's semi-finals saw the first placed Grizzlies roar out the gates, taking full advantage of a depleted Raptors squad that went without Rick St-Gérard, Thomas Carrier, and Max Bien-Aimé.
Early on, Ernst Mécéjour looked determined not to let his team get bullied around, scoring their first 6 points as they trailed by only 4. Mécéjour who finished with 29 points, looked poised for a huge game, nailing buckets from inside and out.
But with Michael Habib at the point, the Grizzlies would have no trouble feeding it into their bigs, Joe Alfie (13 points) and Mo Aly (19 points), allowing them to go to work. They would sprint to a 9-0 run and close out the half with a 22-point lead.
The second half proved to be much of the same as the Grizzlies shared the scoring exceptionally well, swinging the ball around to shooters Habib and Sheeraz Chaudhry who finished the game with 22 and 18 points respectively.
Despite their deficit, the Raptors played with all sorts of heart, keeping the Grizzlies on their toes. Charles-Loïc Danan would take firm control of the ball, scoring 10 points in the second half while Mécéjour shifted his attention to defense, blocking shot after shot in the paint. Christine Gilbert and Walid Khelifa also turned in relentless performances in the absence of their teammates, punching in 5 and 4 points apiece.
Ultimately though, the Grizzlies showed why they finished the regular season on top; their outstanding ball movement, strong rebounding, and inside-outside threats were just too much for the Raps. With a single game to go, the Grizzlies not only cruised to a 72-56 victory, they did it playing their best basketball all season.
In our other semi-final, we got to see a concluding showdown in what has become a bitter, seesaw rivalry between the Heat and Bulls who split their season series at three wins each.
The Bulls looked strong early on, going immediately in to Abdel Affo who caused all sorts of trouble for Mora Chim on this night. Affo would end the game with 19 points while Chim had to foul out early with only 2 points.
On the other end, the Heat relied on their usual sharp shooters Robert Luu and Johnny Cha who dialled in for 22 and 16 points respectively. Unfortunately, the Vo brothers turned in a quiet game totalling for only 11 points while Ahmed Ghazouani (2 points) had his hands full trying to guard Affo after his usually tireless teammate, Chim, was forced to sit down.
In the second half, the Bulls would keep their opponent at bay as their backcourt took advantage of a discouraged Heat squad. With Kevin Charles (18 points) and Paul Younan (12 points) controlling the tempo, they allowed for x-factor, Shady Abdalla to make all the right decisions. Abdalla would put up 9 important points, including a couple of crafty assists to teammates Gabrielle Beaudoin (3 points) and Jean-Philippe Lallemand (7 points).
After claiming the final victory in their best-of-seven matchup against the Heat, 68-53, the Bulls move on to the finals where they will face the first placed Grizzlies. Despite the difference in rank, both teams are resolutely confident that they will be crowned the first ever Jammi champions. When asked about the possible upset in the making, Bulls guard, Paul Younan, stated simply, "we ain't no underdogs."
The Good: The clutch free throw shooting of Abdel Affo that would keep the Bulls comfortably ahead.
The Bad: The elimination of two tenacious teams, the Heat and Raptors, who will face one another for third place.
The Notable: The never-say-die attitude of Ernst Mécéjour who turned in 29 points, including some highlight worthy blocks and circus shots.
Photo Credit: Ameed El-Ghoul - Sphinx Photography